DeviceEraser
Erase your harddisk or an removable media
Before giving away storage devices such as hard disk drives, usb-sticks, zip-disks, floppy-disks ... one should securely erase all data on the storage device. Otherwise personal data like confidential documents or private images may fall into the false hands. Most users only use the format function of their operating system unaware that this function does not erase the data but instead only hides it. Most of those formatted data can be recovered easily afterwards. This is the point where DeviceEraser comes into place. It allows overwriting the complete content on a storage device. In difference to other erase-tools like DBAN it allows to erase all storage devices visible to Windows without rebooting. Therefore it works with all USB storage devices as well as PATA and SATA disk drives. You can even go on working while DeviceEraser erases the storage device.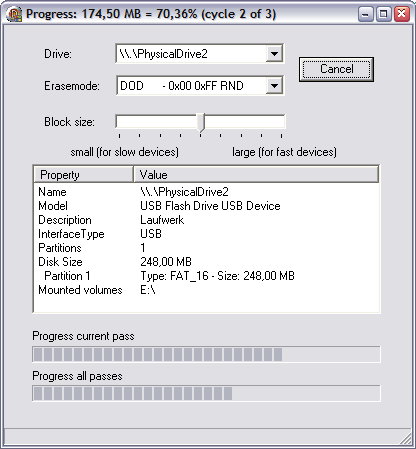 DeviceEraser program
Note: Use this program at your own risk. Any maloperation may result in an unoperable system.
Download DeviceEraser.exe (binary without source)
Download DeviceEraser source (as TurboDelphi for Win32 project)

Installation
Just extract the executable

DeviceEraser.exe

into a directory an execute it.
License
Freeware
History
1.0
2007-01-03

Available drives are now found without using WMI, therefore DeriveEraser can be used even if WMI is not installed (for example on PE systems). Only some additional disk information (name, model, description, interface type and partition count) will not be available without WMI.
Disk information now shows a list of partitions and volume mount points: works with standard partitions (MBR style) as well as dynamic volumes (GPT style).
All partitions will be deleted before erasing starts (required for Windows Vista)
Added a warning message if executed without administrative permissions.

0.9
2007-01-03